The basic idea for this collective adoption of an "Unacceptable Ingredients List" came as an important "Ah Hah!" moment when we discovered that Whole Foods Markets (WFM) has a detailed contract with United Natural Foods Inc (UNFI) that required UNFI (formerly known as Mountain People's Warehouse) to accept a detailed 'Unacceptable Ingredients List" provided by WFM, and that "UNFI agrees it will not knowingly sell WFM Products that contain ingredients listed on the Unacceptable Ingredient List.".
The Ah Hah! resulted from the collective realization that when our Coop joined the National Coop Grocers Association (NCGA), we had become part of a "Coop of Coops" - a chain so large that it was actually second only to Whole Foods Markets in volume and dollar value, in the Natural Foods arena, and this opens the possibility that if we could combine OUR buying power with theirs (which requires a grassroots effort to redirect NCGA from the bottom up) we would literally have the power to enter into collective bargaining position with "truly evil" corporations like General Mills (who have defeated local product labeling legislation efforts in several states), and force them to assure us that they have actually removed all traces of toxic chemicals and endocrine disruptors such as BPA from the protective linings used in the cans of food they create under product names like Muir Glen.

The Ownership Octopus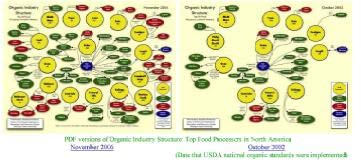 The Structure of The Organic Distribution Network (Top 25)
THE POISON IN OUR FOOD (and CAN linings) IS FINALLY HITTING THE FAN
"The world According to Monsanto"
On March 11 a new documentary was aired on French television (ARTE – French-German cultural tv channel) by French journalist and film maker Marie-Monique Robin, The World According to Monsanto - A documentary that Americans won't ever see. The gigantic biotech corporation Monsanto is threatening to destroy the agricultural biodiversity which has served mankind for thousands of years. ONE HOUR AND FORTY-EIGHT MINUTES
Chemical Linked to Birth Defects Found in Canned Foods
5 MAR 2007 | In the most comprehensive U.S. tests for an industrial chemical used to line cans of food, an independent laboratory found a compound linked to birth defects in more than half of the samples of canned fruit, vegetables, soda, and baby formula from supermarket shelves.
More background science on endocrine disruptors and synthetic estrogens


This website is a comprehensive resource for environmental, health and safety information about bisphenol A (BPA). Bisphenol A is an industrial chemical used primarily to make polycarbonate plastic and epoxy resins – both of which are used in countless applications that make our lives easier, healthier and safer, each and every day.


Research on endocrine disruption has exploded since Our Stolen Future was published. New results, new syntheses, new policy recommendations and debates appear, it would seem, almost weekly.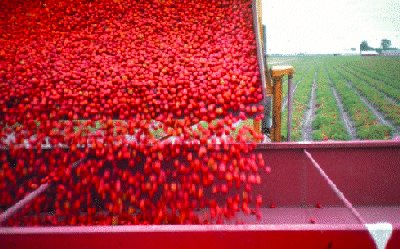 Cool Photo Tour of tomato processing plant!
Tomatoes skins are removed by soaking tomatoes in a warm solution of lye, then rolling them across fast-spinning rollers. The skins become less acidic from the addition of lye. Either citric or hydrochloric acid is added to re-acidify the skins which have become alkaline by the addition of lye. The skins are added into sauces, etc. Diced tomatoes are treated with calcium carbonate or calcium lactate and sometimes y-irradiated (whatever that is) to preserve firmness. - - John Barr, PSGC Committee

About Pasteurized Almonds and USDA Stickers on other Irradiated Foodstuffs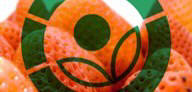 Our Quality Standards (Whole Foods Markets)
We carry natural and organic products because we believe that food in its purest state — unadulterated by artificial additives, sweeteners, colorings, and preservatives — is the best tasting and most nutritious food available.
Our business is to sell the highest quality foods we can find at the most competitive prices possible. We evaluate quality in terms of nutrition, freshness, appearance, and taste. Our search for quality is a never-ending process involving the careful judgment of buyers throughout the company.
We carefully evaluate each and every product we sell.

We feature foods that are free of artificial preservatives, colors, flavors, sweeteners, and hydrogenated fats.

We are passionate about great tasting food and the pleasure of sharing it with others.

We are committed to foods that are fresh, wholesome and safe to eat.

We seek out and promote organically grown foods.

We provide food and nutritional products that support health and well-being.
Whole Foods Market's Quality Standards team maintains an extensive list of unacceptable ingredients. However, creating a product with no unacceptable ingredients does not guarantee that Whole Foods Market will sell it. Our buyers are passionate about seeking out the freshest, most healthful, minimally processed products available.
Quality Standards: Unacceptable Food Ingredients The following list contains ingredients that Whole Foods Market finds unacceptable in food products. We reserve the right to change this list at any time.
The following list contains ingredients that Whole Foods Market finds unacceptable in food products. We reserve the right to change this list at any time.
acesulfame-K (acesulfame potassium)
acetylated esters of mono- and diglycerides
ammonium chloride
artificial colors
artificial flavors
aspartame
azodicarbonamide
benzoates in food
benzoyl peroxide
BHA (butylated hydroxyanisole)
BHT (butylated hydroxytoluene)
bleached flour
bromated flour
brominated vegetable oil (BVO)
calcium bromate
calcium disodium EDTA
calcium peroxide
calcium propionate
calcium saccharin
calcium sorbate
calcium stearoyl-2-lactylate
caprocaprylobehenin.
carmine (see cochineal)
certified colors
cochineal (carmine)
cyclamates
cysteine (l-cysteine), as an additive for bread products
DATEM (Diacetyl tartaric and fatty acid esters of mono and diglycerides)
dimethylpolysiloxane
dioctyl sodium sulfosuccinate (DSS)
disodium calcium EDTA
disodium dihydrogen EDTA
disodium guanylate
disodium inosinate
EDTA
ethyl vanillin
ethylene oxide
ethyoxyquin
FD & C colors
fois gras
GMP (disodium guanylate)
hexa-, hepta- and octa-esters of sucrose
hydrogenated fats
IMP (disodium inosinate)
irradiated foods
lactylated esters of mono- and diglycerides
lead soldered cans
methyl silicon
methylparaben
microparticularized whey protein derived fat substitute
monosodium glutamate (MSG)
natamyacin
nitrates/nitrites
partially hydrogenated oil
polydextrose
potassium benzoate
potassium bisulfite
potassium bromate
potassium metabisulfite
potassium sorbate
propionates
propyl gallate
propylparaben
saccharin
sodum aluminum phosphate
sodium aluminum sulfate
sodium benzoate
sodium bisulfite
sodium diacetate
sodium glutamate
sodium nitrate/nitrite
sodium propionate
sodium stearoyl-2-lactylate
sodium sulfite
solvent extracted oils, as standalone single-ingredient oils (except grapeseed oil).
sorbic acid
sucralose
sucroglycerides
sucrose polyester
sulfites (sulfur dioxide)
TBHQ (tertiary butylhydroquinone)
tetrasodium EDTA
vanillin
Last updated on April 01, 2005